With concerns about the spread of viruses, it's easy to forget that the basics may be your best defense.
Let's talk COVID-19 virus ….since it is all the rage right now, and literally inching up in our backyard.


The world is grappling with an issue of enormous scale and human impact, and our hearts go out to all who have been affected by the outbreak of coronavirus (COVID-19) and who are currently working on the front lines to help all those affected. Thank you!

The COVID-19 virus is sitting quite close to home, so to speak, for my family. My sister-in-law and her family live in Italy….gasp! (I know). Yup, she is there for work for the next few years and as you likely know Italy is currently on a lock-down of sorts. They have been hit pretty hard with the COVID-19 virus and the country has basically shut down. No travel in or out; most people have been told to work from home; schools and programs have been shut down; there are rules in place about no handshaking or greeting with a hug/kiss and also about walking at least 1 meter away from others. Luckily my sister-in-law and her family stocked up and prepared for this a few weeks ago because the grocery store shelves are bare and many business have shut down for the time being. It is scary and very real over there.

Here in Toronto, where I live, things are not nearly has dire….not yet...and maybe not ever. Our city has taken many precautions and these have been in place for weeks, and I am getting multiple emails daily about all the various local businesses, schools, yoga studios, and libraries and what precautions they are taking.
As of right now I am not too worried, though I am taking extra precautions and upping our natural wellness game to boost our immune system and keep us (and our home) clean.
Since this COVID-19 virus is in full force all over the world, and the hot topic right now, I have been spending some time researching it, and its potential ramifications.

I thought I would share what our family is doing to stay healthy and some resources I've found helpful. As I mentioned, in general, I'm not overly worried about any of us (in my direct family of 4) if we happen to catch it, but my ageing parents are in the 'high risk' category due to their age and lowered immune system, and so I'm trying to minimize the potential of catching and spreading it.


7 strategies to keep you feeling healthy & well
......and hopefully prevent the catching or spreading of the virus….
Hand Washing: Experts agree that hand washing is one of the best steps we can take to stop the spread and minimize our chances of getting it. As per CDC guidelines, you should be washing your hands with warm water and soap for at least 20-30 seconds especially after being out in public places. In your home, at the office or on the go, have Thieves at the ready to clean your hands and everyday surfaces.



Remove Immune Stress: The fastest way to increase your resistance to colds, flu, and yes, viruses too is to #tossthetoxins and remove the toxic products from your home and diet! This means removing all pesticides and all cleaning products with harmful ingredients from your home, as these directly alter the microbiome which can cause more vulnerability to illness.



Eat Well and Stay Hydrated: Eat a balanced micro-nurtrient rich diet full of fresh foods, to optimize your microbiome and gut health, thereby strengthening your immune system. Make a clean sweep of your pantry and refrigerator of all foods that are not organic, have harmful ingredients, and inflammatory fats… and that includes refined sugar, which suppresses the immune system and makes you more vulnerable to bacteria and viruses but also prolongs cold and flu symptoms. Make sure to drink lots of water and fluids to help replace fluids lost and loosen mucous and aid in clearing congestion.




Get outside: Natural vitamin D from sunlight boosts the immune system (and also helps improve your mood...which will keep you above the wellness line, #justsaying). Fresh air is also so important for increased oxygen which carries good bacteria thus also strengthening your microbiome (and immune system).



Prioritize Sleep: Now we all know that sleep is super important for our functioning and also our immune system….. And I also know that many of you have little ones who are perhaps not sleeping so great. Aim for 8-10 hours of sleep (and turn off the WIFI to reduce your EMF exposure). Get some more helpful tips with my free guide, 5 Quick Tips To Getting More Sleep Tonight here.



Stick to the facts - look at the source of your information. Consider where you will look to in getting the correct information.



Be positive: Being positive helps you raise your energy vibration and stay above the wellness line. Surround yourself with positive people, say your affirmations every day, listen to an uplifting podcast, watch a funny movie, give your best friend a call, laugh & play with your kids. Try really hard to step away from social media and TV from time to time, or at least don't watch/follow the scary headlines and news stories about the coronavirus.


We all need to conscientious of the part we play in preventing the spread of germs by how we take care of ourselves and our community. And luckily, in my family, we have some amazing plant-based tools to use on the daily, without the harsh chemicals and harmful toxins found in your conventional brands (which hurt your immune system by the way).
---
Extra steps we are taking, in my family,
.....in our daily routine during this
coronavirus pandemic…..


---
Extra supplements we're taking...
Inner Defense: I just stocked up on our Inner Defense tablets, which help us maintain a strong immune system and also help fight any of the cold and flu symptoms we might face.



Vitamin C: I've got this on hand, and take this daily, but am upping my dose and recommending my family do the same. A medical team from the Second Affiliated Hospital of Xi'an Jiatong University in China reported the successful treatment of coronavirus patients with high doses of vitamin C. Vitamin C can have strong antioxidant effects, reduce inflammatory responses, and improve endothelial function, while improving antiviral levels. The dose recommended in the article is 50-100 mg per kg of bodyweight per day. You can read the full article on the subject here. I take 2 tablets of Super C daily to maintain immune function and prevent Vitamin C deficiency. I up this dose at the first hint of illness.



Probiotics: Keeping your gut full of healthy bacteria is key in maintaining a strong immune system. We love the Kidscents MightyPro and Life9 as our go-to probiotics because they are all natural ingredients, that pack the punch in terms of good bacteria and other awesome ingredients (like antioxidants)



Ningxia Red: This puree juice is a delicious supplement, this antioxidant rich powerhouse can be a key ally in your health and boosting your immune system.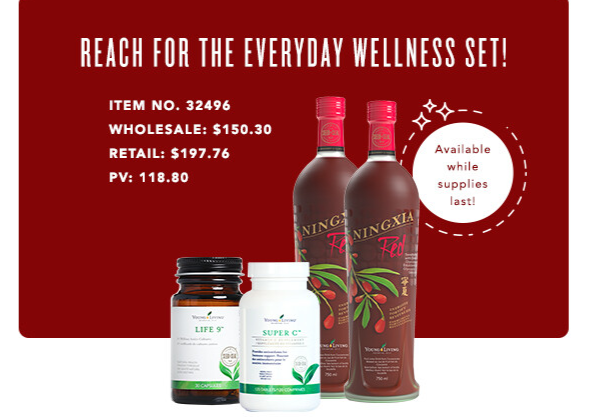 ---
What I'm Stocking up on....
Food and pantry staples… well, we haven't done this yet, but we are stocking up this weekend on canned goods, quinoa or chickpea pasta, and other non-perishables. A Costco trip is in our very near future!!! But we have our Ningxia in stock (though I may pick up a few more bottles….just in case).

I am making a Young Living run next week, to the Ontario Experience Centre (in Brampton, ON) in case anyone is interested in getting some supplies and saving on shipping costs. Things on my list are: Life 9 probiotics, Super C, Thieves hand sanitizer (this is on limited supply), Thieves essential oil, and the Thieves hand soap refill (we just re-use our soap dispensers!)
---
My gift to you...
My Natural Wellness e-course! I made this 5-part mini course a while back and instead of the normal price of $47, I have now decided to offer it for free.
… at least for the next little bit…. I really want to spread the message about starting to learn and think about the toxins lurking in our cabinets and homes and how to make smart and easy switches, without a lot of effort!


You can get access to that here.


I hope you and your loved ones stay healthy this time of year!

Reach out if you need any help stocking up!
P.S. If you do decide to order any of the items I suggest, from Young Living, and you use my member # 1692595 as the sponsor/enroller ID, then you are essentially supporting a small business (me!) AND you get my personalized support on your journey to toxin free living! Woohoo!!! And not only that, but you also get connected into a super supportive and uplifting community of other wellness gurus....it is pretty awesome!
P.P.S Here are some additional resources for you to consider:
The site provides fact sheets in multiple languages including information on:

How to self-monitor

How to self-isolate

Self-isolation: Guide for caregivers, household members and close contacts
This site is updated at 10:30 a.m. and 5:30 p.m. every day. The site provides information about out how to protect yourself, what to do if you're sick after you travel and how to recognize possible symptoms.